Le Chéile - together!
Ag Rásaíocht Le Chéile
Thursday 9th, Friday 10th & Saturday 11th November
Le Chéile. The Irish for "Together".
A weekend for our community to come together and enjoy a night out together at their local greyhound stadium.
If you cannot see the embedded video above, click here.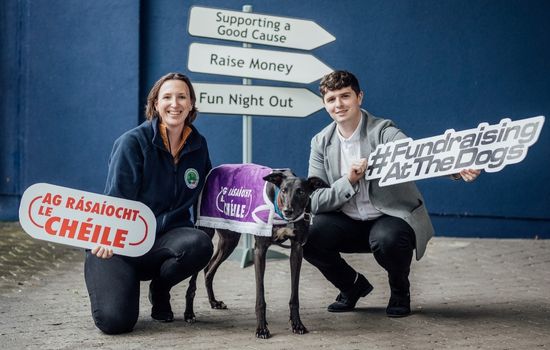 A Nationwide Free Event
Thinking of hosting a fundraising evening or company night out at your local Greyhound Stadium or just want to see what a night at the dogs is all about?
Then join us at one of our venues for our nationwide open evening!
See the thrill of racing, enjoy a night at the dogs and best of all bring your family, friends or co-workers for a free night out.
Meet our Irish Retired Greyhound Trust Ambassadors on the night.
If you're thinking of hosting a fundraising event or would like to know anything about organising an event our team will be there to help.
Free Admission
Over the course of the weekend we want to 'race together' and we'll be offering free admission* in the following locations:
Thursday 9th November
Shelbourne Park Greyhound Stadium, Dublin
Limerick Greyhound Stadium
Enniscorthy Greyhound Stadium
Friday 10th November
Curraheen Park Greyhound Stadium, Cork
Galway Greyhound Stadium
Newbridge Greyhound Stadium
Kilkenny Greyhound Stadium
Clonmel Greyhound Stadium
Saturday 11th November
Mullingar Greyhound Stadium
Kingdom Greyhound Stadium, Tralee
Kilcohan Park Greyhound Stadium, Waterford
Dundalk Stadium
Thurles Greyhound Stadium
Pre-booking is not essential and you can just avail of free admisison on the night.
Racecards will be sold seperately
*free general admission does not apply to Restaurant Packages or Group offers
REMEMBERING THOSE WHO HAVE PASSED AWAY
As part of our Ag Rásaíocht Le Chéile weekend, we will remember those from within our community who we have lost over the past year, from November 2022 to now.
Please email us with their name and location for inclusion in a memorial list in race programmes over the weekend.
Email: remembering@grireland.ie
Closing date for inclusion is Monday 6th November
RACING BONUSES
Additional prizemoney will be on offer for the weekend. If you are interested in running your greyhounds over the weekend, please contact your local racing office for more information and to enter.