The Story Of Spanish Battleship
THE SPANISH BATTLESHIP STORY
The history of Ireland's three-time Derby champion
By Ian Fortune - as published in April 2020
It's almost sixty five years since Spanish Battleship did the impossible by capturing a third Irish Derby crown in September 1955, but all these years on he remains the most legendary name in the annals of Irish greyhound racing.
Born the runt of a litter of seven, he was never meant to be a champion although he clearly hadn't read the script as he did the implausible throughout his long racing career. A fawn brindle dog, he was born in Killorglin in August 1951.
His dam was a bitch named Ballyseedy Memory, who was owned by Tadgh Drummond of Tralee, but leased by Tim 'Chubb' O'Connor to mate with his champion Spanish Chestnut. O'Connor had been no stranger to success on the track having won the Derby in 1949 with Spanish Lad, while he also owned the first two home in the Laurels at Cork that same year with the aforementioned Spanish Chestnut beating Spanish Lad.
A year on, Spanish Chestnut retained his Laurels crown, becoming the first dog in Irish greyhound racing to win the same classic on more than one occasion. Remarkably, his son would go one better just five years later.
The Spanish Battleship story is as unlikely as any great sporting yarn told in Hollywood, only this was real life. As a puppy, Chubb O'Connor, who was a publican in Killorglin, paid special attention to his 'runt', feeding him at any possible moment.
Stories of the time also suggested he was fed Guinness from a baby bottle and, whether they are true or not, it seemed to do the trick. While he remained the smallest dog in the litter and barely as big as the bitches, it was clear relatively early in his career that he could run.
Weighing in at 60lbs for his qualifying trial, he won his first two races at Tralee and Limerick. After a failed crack at the Leger, O'Connor sent his dog to be trained by his friend and native Kerry man, Tom Lynch, who was now training dogs in Blanchardstown, outside Dublin.
The rest of the story is written in the history books. When a potentially great greyhound falls into the hands of a great trainer, special things can, and often, happen. That was certainly the case with Spanish Battleship and Tom Lynch.
Lynch trained Spanish Battleship for the remainder of his Irish racing career. After finishing runner-up in the 1953 Laurels, Spanish Battleship was then aimed at his first Irish Derby at Harold's Cross. By now he was well established at Lynch's kennels and was described by his handler as the model greyhound with a perfect temperament that took very little training.
His racing weight rarely deviated from 62lbs, although his slight build didn't hold him back as he went unbeaten through that first Derby, beating Smokey Glen in the final by a length in 29.78 for the 525yd trip. He was a Derby winner at just two years of age.
After a winter layoff, which was customary at the time, he returned to win the 1954 Easter Cup in the April. It was the start of a massive year for the star tracker. He was beaten in the Callanan Cup at Harold's Cross before beginning the defence of his Derby crown – this time at Shelbourne Park.
Breaking the track record in the prelims – posting 29.50 – he was a hot favourite for the decider and duly won a second Derby in comfortable fashion, seeing off Dignity by three lengths in 29.64. He continued to race through the remainder of the year, breaking the track record twice around Thurles on his way to victory in the Tipperary Cup before going on to win the McCalmont Cup at Kilkenny by six lengths.
It meant he ended 1954 the reigning dual Derby champion as well as the Easter Cup, Tipperary Cup and McCalmont Cup winner. He was already established as perhaps the greatest ever but, as we now know, he was far from finished.
The pint-sized superstar returned after his winter break to run out a facile winner of the 1955 Easter Cup, emerging a six length winner in 29.72. He suffered a rare defeat in the Corn an Tostal at Harold's Cross but, despite passing four years of age, he continued to perform at the highest level.
His third Derby challenge began that August but he faced some far younger, and very talented, rivals. The original entry of 36 greyhounds was packed with pretenders to Spanish Battleship's crown and he suffered defeat in the opening round, caught late by Crostys Bell.
There was an extended break ahead of the semi-finals due to the smaller than normal entry and this afforded Tom Lynch time to trial Spanish Battleship. By all accounts, it seemed to do the trick as he stripped fitter in the semis, winning by three lengths.
Just imagine the atmosphere and the crowds present at Harold's Cross on Derby final night as Spanish Battleship attempted to create history and do something no other dog was ever likely to achieve – win a third Irish Derby title.
Those that packed the stands backed the history seeking Spanish Battleship into 5-4 favouritism and he immediately got the jump on his closest market rival, Crostys Bell. Quickly building a three length lead, he never surrendered his advantage and comfortably went on to earn his place in history as the only greyhound to win the Derby three times.
To a wonderful ovation, Tim O'Connor and Tom Lynch's star saw off Crostys Bell by two lengths in 29.53 – the fastest of his three Derby winning runs.
His connections fought the urge to retire the veteran and their decision proved an inspired one as he went to Cork where he atoned for his 1953 Laurels defeat, coming home clear of Wild Pilot in 28.35 for the 500yd trip.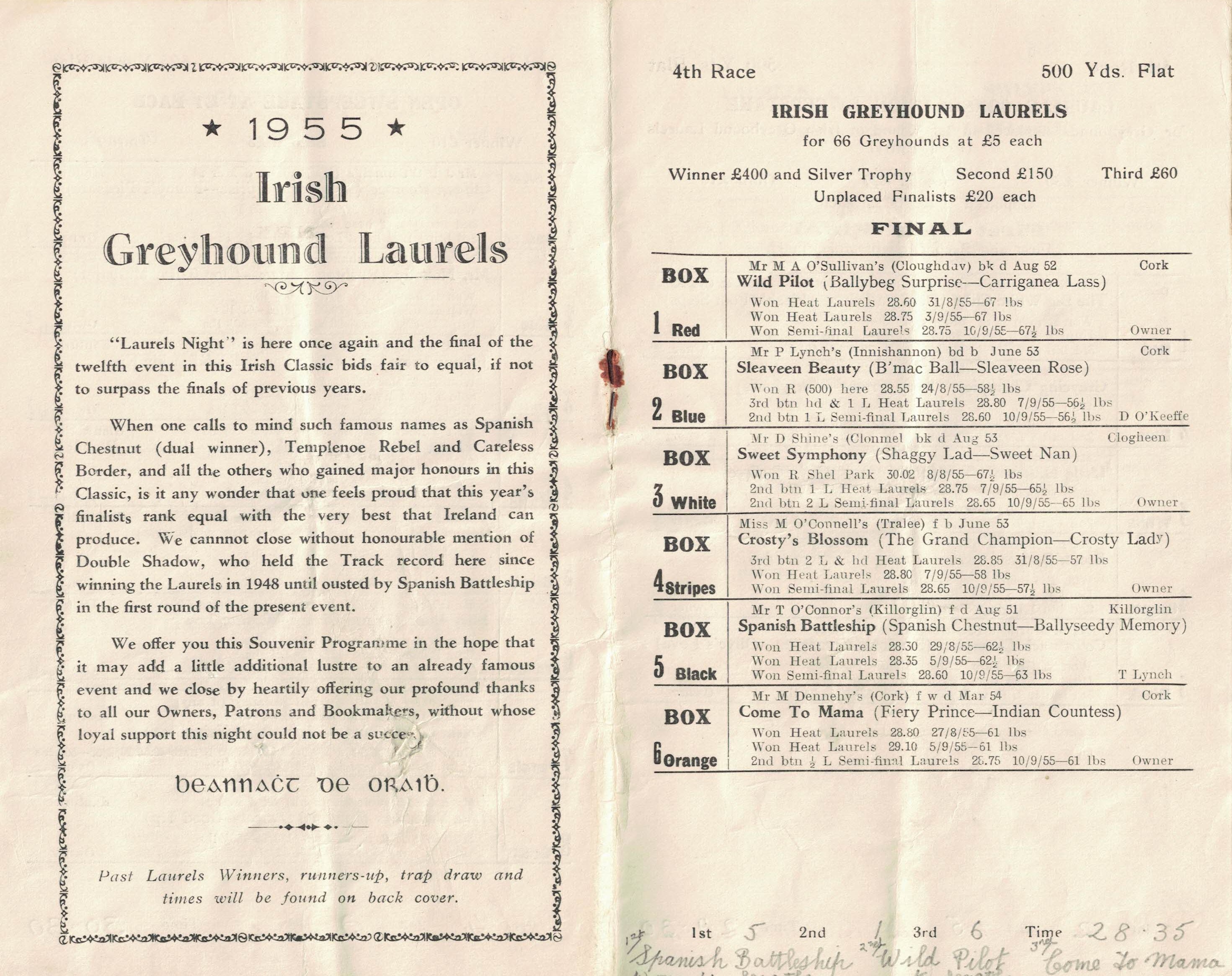 Still he wasn't finished. He recorded a second victory in the McCalmont Cup at Kilkenny that October and took part in number of exhibition races, including one around Galway where he dead-heated with Portahard Boy in a track record breaking 29.98.
Now well into his fifth year, O'Connor made the choice to send him to the UK, turning down a large offer for the dog from the United States. Time was to catch up with Spanish Battleship, however. Never producing anything like his brilliant best, he was finally retired after finishing third of three in an exhibition race at White City.
Sadly, Spanish Battleship was a failure at stud but his legend lives on. In his incredible racing career, which spanned almost three years, he earned in excess of £6,000, broke numerous track records and won some of the biggest prizes on offer in our sport, including those three Irish Derby successes.
We may never see his likes again.