Treat them to a Night Out at the Dogs
Gift Vouchers
Not just a gift voucher... it's a ticket to a great night out!
A gift voucher for their local Greyhound Stadium is their ticket to a great night out at a time that suits them.
Buying a voucher is quick & easy and can be done from the comfort of home:
✔️Click on your local Greyhound Stadium below to get started
✔️ Select the 'Monetary Gift Voucher' option
✔️ Add an amount, as big or small as you'd like, the minimum is just €10
✔️ Add a personalised note for them if you wish
✔️ Choose to print the voucher at home or email it directly to the lucky recipient!
To buy online, click on the stadiums link below:
Shelbourne Park Greyhound Stadium, Dublin
Curraheen Park Greyhound Stadium, Cork
Galway Greyhound Stadium
Limerick Greyhound Stadium
Mullingar Greyhound Stadium
Newbridge Greyhound Stadium
Kingdom Greyhound Stadium, Tralee
Kilcohan Park Greyhound Stadium, Waterford
Got a question or prefer not to buy online?
Don't worry, we're here to help. Call our Sales Team now on 061 448080 or email sales@grireland.ie.
Your night out supports the Greyhound Care Fund

Want to buy a voucher that can be used in multiple venues?
If you're not sure what stadium they'd prefer, then don't worry. All monetary value vouchers can be used in any of the locations listed above. Please note - stadium specific offers such as set Dinner packages can only be used in the location they are purchased for.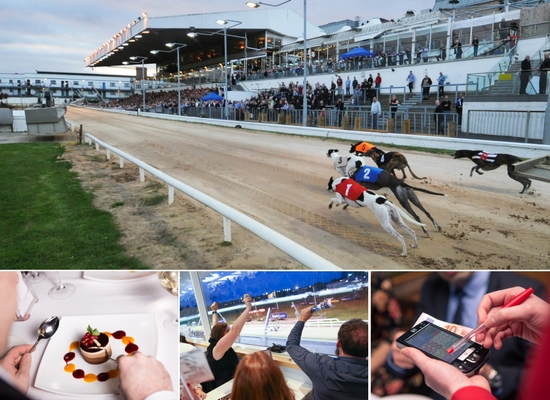 What can you use your Gift Voucher for?
Our Gift Card is the perfect gift for any occasion. It can be spent in all of the IGB locations listed below.
You can spend your voucher throughout the stadium including:
Dinner & Restaurant packages
Admission to racing
Finger Food Packages
Group Packages & offers
Gift Vouchers may also be exchanged for Tote Vouchers. Please contact our Sales Team on 061448080 to find out more.
With so much to choose from, you can be confident that this is one gift they'll really enjoy!
Vouchers are valid in the following stadia:

Shelbourne Park, Dublin
Curraheen Park, Cork
Galway Greyhound Stadium
Limerick Greyhound Stadium
Mullingar Greyhound Stadium
Newbridge Greyhound Stadium
Kingdom Greyhound Stadium, Tralee
Kilcohan Park, Waterford