The 2021 Sporting Press Irish Oaks
2022 Irish Oaks
Final of the 2022 Sporting Press Irish Oaks will take place on 18th of June.
Congratulations Susie Sapphire
Susie Sapphire added her name to the record books winning the 2021 Sporting Press Online Edition Irish Oaks after a sensational display on Saturday night.
Join Ian Fortune in Shelbourne Park venue to look back on a brilliant final.
If you cannot see the embedded player above, click here to watch on our Youtube channel.
Susie Sapphire and owner Peter Comerford accept trophy from DJ Histon
Susie Sapphire the morning after her win
*******
Sporting Press Irish Oaks Online Card
We've worked with our sponsors,the Sporting Press, to produce a fantastic souvenir card for the Final of the 2021 Sporting Press Online Edition Irish Oaks. While you're following the action from home or out and about on your phone this card will help you be part of the action.
If the embedded programme does not display correctly you can also view it via this link.
To make the programme easier to read, set it to full screen. You can do this by clicking on the rectangle with 4 white corners on the bottom right on a desktop or in the centre on mobile.
Get the latest Oaks news - in the paper & online!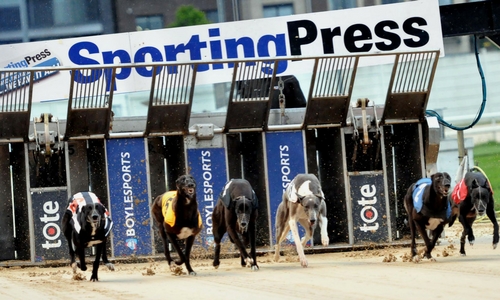 For the latest racing news on the Sporting Press Online Edition Irish Oaks pick up the latest copy of the paper, check out their new online edition on sportngpress.ie or visit Talking Dogs!

Don't forget you can also visit the Sporting Press on Facebook or Twitter.
Join in the chat on social media using #SportingPressIrishOaks
Talking Oaks every Monday
Tune in every Monday night from 8pm for Talking Oaks. Watch the latest episode and all the series on our Oaks video page.
2021 Sporting Press Online Edition Irish Oaks
Dates for your Diary
1st Round - Saturday 22nd May
2nd Round - Saturday 29th May
Quarter Finals - Saturday 5th June
Semi Finals - Saturday 12th June
Final - Saturday 19th June
Video: 2020 SPORTING PRESS IRISH OAKS FINAL
Join Ian Fortune for the Final of the 2020 Sporting Press Irish Oaks in Shelbourne Park as Ballymac Beanie adds her name to the record books. We also catch up with winning trainer Declan Byrne and sponsor rep Pat Loughlin.