Tralee Christmas Party Packages
It's time to (Christmas) Party!

It's about time we partied...like no other party! Let's make this Christmas special - the excitement, the racing, the passion, the food, a night to remember. So start practising your moves.
Get Ready, Get Set....Go Greyhound Racing this Christmas Party season! Your favourite Christmas Party is back at Tralee's Kingdom Greyhound Stadium.
From dining in our restaurant or private suites to casual finger food packages, there's something to suit every budget and group size, why not take a look at what we have to offer.
CLICK HERE TO VIEW OUR 2022 CHRISTMAS PARTY BROCHURE
Got a question or prefer to speak to us? No problem, call us on 0667169600 or email sales@grireland.ie.
Tralee Christmas Party Nights 2022
The perfect Kerry Christmas Party venue, we have parties from Friday 25th November until Friday 23rd December
Opening Time: 6.30pm
Entertainment: Live Music/DJ until 12.30am
November 2022 Party Dates
Friday 25th November
Saturday 26th November
December 2022 Party Dates
Friday 2nd December - limited availability
Saturday 3rd December - limited availability
Friday 9th December
Saturday 10th December
Friday 16th December
Saturday 17th December
Friday 23rd December
Christmas Party Restaurant Packages
Enjoy the excitement, the racing, the passion & the food with reserved seating for your group and Tote & Drinks service straight to your table.
Your Admission to racing & Race Programme is included and with your restaurant party package you will also enjoy:
🎄A Glass of Bubbles on Arrival
🎄 A Sumptuous 3 course dinner
🎄 A reserved table(s) in our stadium restaurant with views of the racing action outside
🎄Bar & Tote Betting service direct to your table
🎄Music after racing to continue the party!
The restaurant at the Kingdom Greyhound Stadium is glass-fronted and tiered allowing views of the racing action for all your party, plus TV screens throughout for those close up view of the action.
Christmas Party Restaurant Prices:
Friday and Saturday Nights €45.00 per person

Children's Restaurant Menu available upon request
10% of all Christmas Party Packages are donated to the Greyhound Care Fund

CHRISTMAS PARTY FINGER FOOD PLATTERS
FOR GROUPS OF 15 OR MORE
€27.50 PER PERSON
Your Admission to racing & Race Programme is included and with your party package you will also enjoy:
🎄 A Reserved Area for your group
🎄 A Delicious Platter of tasty bites
🎄 Bar & Tote betting facilities available
🎄 Music to continue the party after racing
SAMPLE CHRISTMAS PLATTER MENU
Torpedo Prawns
Onion Bhaji
Cocktail Sausages
Vegetable Spring Rolls
Chicken Goujons
Spicy Wedges
Dips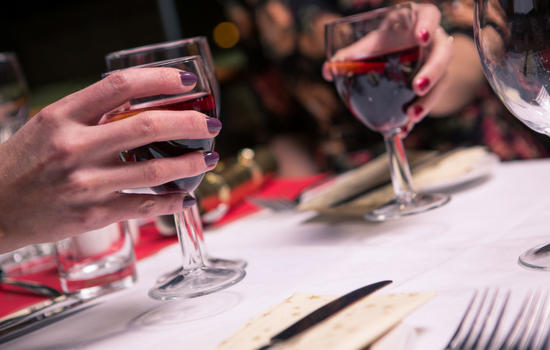 Arrange a BAR TAB or Pre-Order from our Extensive Wine List
With all the shouting and cheering your throat is likely to require regular lubrication and that's all part of the occasion! Whatever your tastes, you're sure to find satisfaction.
We offer a comprehensive range of beers, spirits, and soft drinks and if you're looking for something even more special, we provide a wine list that is sure to impress.
GOT A QUESTION OR PREFER TO SPEAK TO US? NO PROBLEM, CALL US ON 0667169600 OR EMAIL SALES@GRIRELAND.IE.
Terms & Condition's Apply
• €25 Deposit per person is required to secure your reservation which is refundable up to 4 weeks prioer to the event date.
• Full Payment is required 1 Month prior to the event date.
• Payments are non-refundable in the event of reduction in numbers or cancellations within the 4 weeks prior to Event.
• Bookings of more than 4 people cannot be guaranteed one table due to tiered restaurant lay-out . Tables are pre-allocated by the Restaurant Manager on the evening of the Event. Requests are subject to availability and will be accommodated by the restaurant manager where possible.