Fundraising & Benefit Nights
Contact Information

Phone 061 448092
Orlaith Farrelly

For clubs or other groups looking to raise money, a night at the dogs is one of the most social and enjoyable ways of going about it.

Depending on the numbers you expect to attract, you can attend an existing night in Mullingar – or even stage a one-off night that's all about your group.

You'll enjoy a discounted rate on general admission, plus a range of special offers from our bar and restaurant.

Every year millions of euro is raised for clubs, organisations, schools and charities at local Greyhound Stadia right across Ireland. So not alone can you raise some badly needed funds, but your club members and their friends can enjoy a great night out at the same time, building an even stronger club spirit.

Among the facilities at Mullingar are:

Fast Food
Bar
Street Parking
Outside Covered Area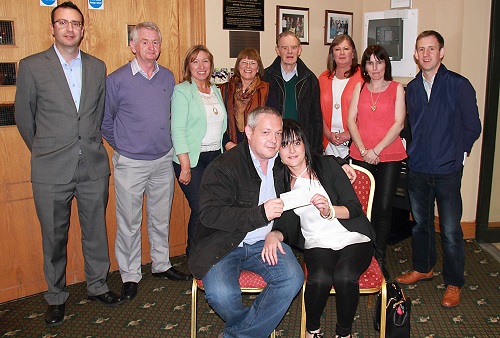 Raising funds for your good cause & the IRGT
Did you know that 2% of ALL winning prizemoney is donated to the Irish Retired Greyhound Trust? And that the Irish Greyhound Board then match that amount in another donation?
So that means that not only is your cause raising funds from your fundraising event but so is the Irish Retired Greyhound Trust (IRGT).
Want to know more about the work of the IRGT? Visit their website www.GreyhoundsAsPets.ie.


Testimonial

Can I just thank you for all your fantastic help for our fundraiser night, it proved a huge success for us, as a small country school with just 115 pupils we managed to raise in excess of €15k which is a tremendous achievement and will go a long way in providing the best for the school & our kids.

I have to really complement you & the staff of the track, the night was more than just a fundraiser it was a fun filled evening which created a massive buzz and atmosphere among pupils & parents alike & the committee are receiving fantastic comments of praise for deciding to host the evening in Mullingar Dog Track. Your help in the organising was imperative to its success & nothing seemed a problem so thanks Sean.
Boher NS Parents Association

As a member of the parents council we decided to hold a number of fund raisers at Mullingar Greyhound Stadium. It has always proved to be a very enjoyable night for all and we've managed to raise some much needed funds at the same time. The staff at the stadium have been very helpful at all stages and I would definitely recommend it as a good way for schools, clubs, charities to raise money and have a social night out at the same time.
Adain Mahon, Killina Presentation School