What's Happening at Curraheen Park
Apex Global Resources Cork Oaks'
Curraheen Park Greyhound Stadium has announced that Apex Global Resources as the title sponsors of the 2023 Cork Oaks, which takes place over 3 weekends during March. The event which first commenced in Curraheen Park in 2001 and was previously hosted in the stadium in the Western Road, is for 24 open class bitches with a winners' prize of €5,000 & trophy.
The partnership will be the first time that Apex Global Resources have worked with Curraheen Park Greyhound Stadium. The event which is expecting a strong entry is seen as the curtain-raiser for The Oaks competition calendar nationwide.
Apex Global Resources Cork Oaks' Dates
Round 1 takes place on Saturday 11th March
Semi-Finals take place on Saturday 18th March
Final takes place on Saturday 25th March
Pictures and videos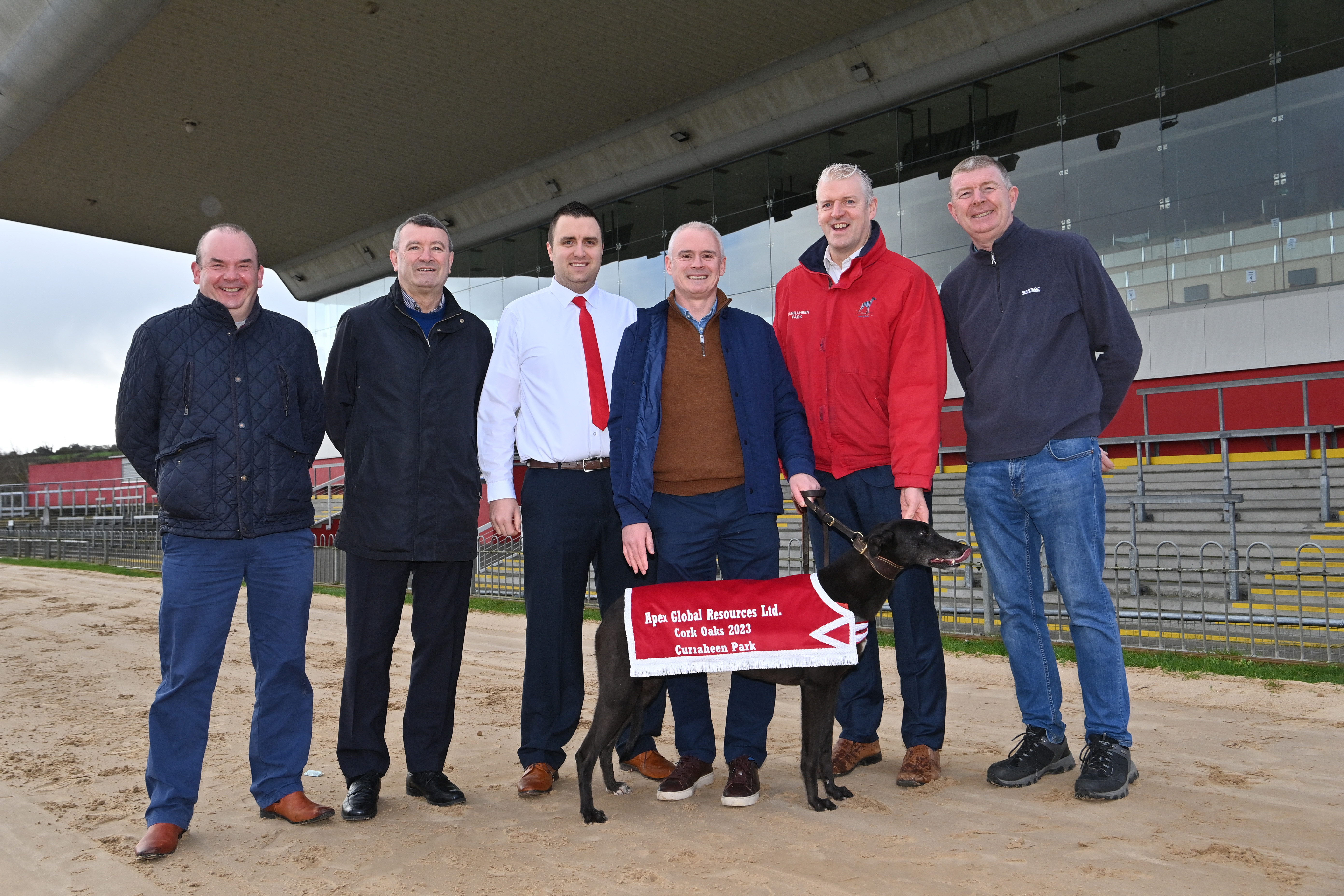 Talking Dogs on Thursday
Episode 121: Ian Reilly and Willie Rigney Talking Dogs on Thursday
If you cannot see the embedded link click here
Betting with the Tote
The tote is a "pool betting" system. All money placed on a race is put into a pool, the tote retains a percentage of this pool with the rest shared between the winning ticket owners. Tote screens are a guide to the price at the moment you place your bet but the actual price isn't known until the betting closes at the sound of the bell – the indicator for the start of the race.
Types of Bets

Win : Pick one dog to win, if your greyhound wins – so do you! Minimum bet €2
Place: Pick one dog to come in either first of second place, if the dog comes in first of second – you win! Minimum Bet €2
Each Way: This is a win bet plus a place bet on one single greyhound. Your dog must come in first or second for you to claim winnings. If the dog wins you collect the win and the place bet, if your dog comes in second you will receive the place bet winnings only. Minimum bet €4
Forecast
Straight Forecast: Pick a dog to come in first and another dog to come in second place. The dogs must come in in the correct order for you to collect winnings. Minimum bet €1
Reverse Forecast: Pick two dogs to finish in either first or second place. Dogs must come in first and second in any order for you to win. Minimum bet €2
Forecast All Ways: Pick three dogs and two of the dogs must come in first or second place in any order to collect on this bet. Minimum €6
Trio
Straight Trio: Pick three dogs to come in first, second and third and dogs must come in in the correct order you choose for you to win. Minimum bet €1
Trio All Ways: Pick three dogs and the three must come in first, second and third place in any order. Minimum Bet €6

Now all that's left to do is choose your dog, cheer them on…and cross your fingers! All of our friendly tote staff will be more than happy to explain any of the different bets to you on the night, in the meantime why not study the form on www.igb.ie, where you will find all our upcoming race cards, and get picking your preferred type of bet!